Simple Linear Regression
One of the most frequent used techniques in statistics is linear regression. Linear regression or ordinary least squares (OLS) investigates the relationship between one or more variables (independent variables) and a variable of interest (dependent variable).
Here, we use the pokemon dataset to explore the relationship between pokemons' weight and strength of attack. First, we would like to visualise how our pokemons are distributed along these two dimensions. We use ggplot() to create a scatterplot:
  ggplot(data=pokemon, aes(height_m, weight_kg))+
  geom_point(alpha=.5, color='black')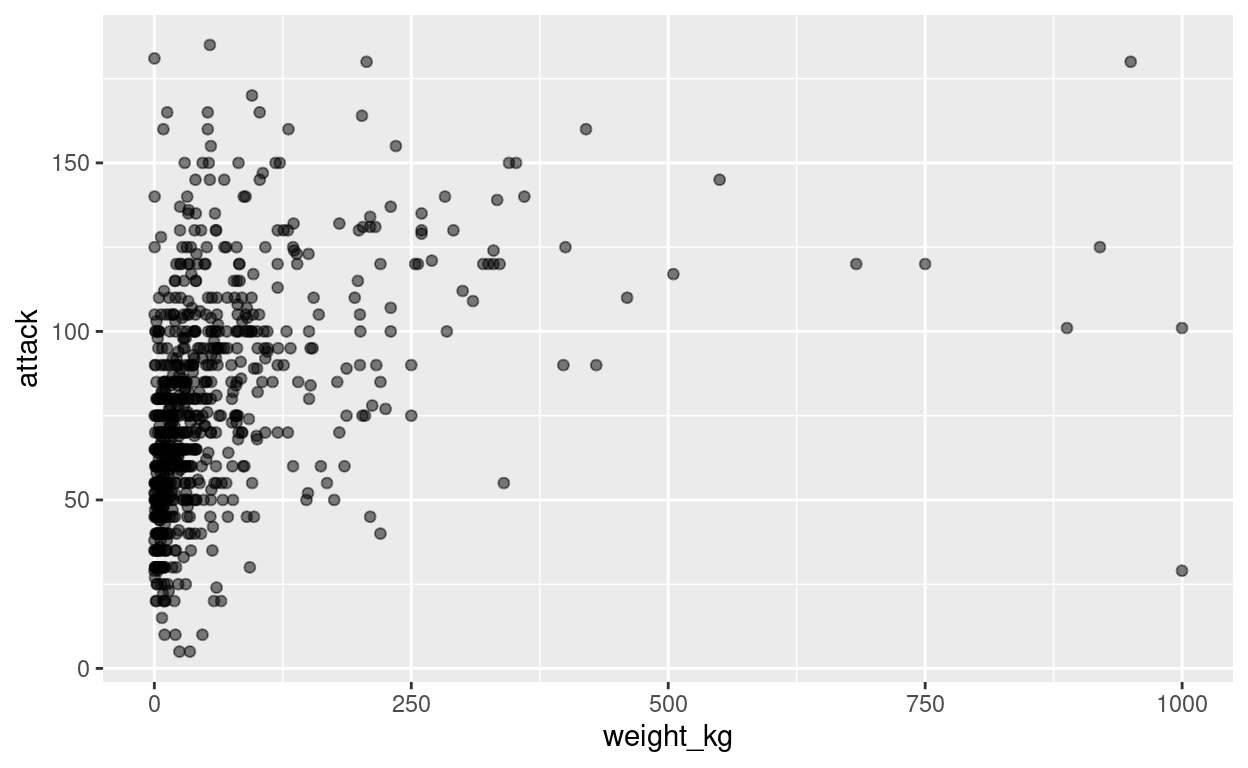 The formula for this linear regression is: \[y = \beta_0 + \beta_1x\] where \(y\) is the dependent variable (attack), \(x\) the independent variable (weight_kg), \(\beta_0\) the intercept and \(\beta_1\) the slope of the line.
In R we can fit a linear model to the data with the function lm(). The dependent and independent variable(s) are separated by a tilde ~, and the name of the dataset as an argument.
Try to write code for a linear regression with weight predicting strength of attack of a pokemon
lm(attack ~ weight_kg, pokemon)
The intercept refers to the expected value of \(y\) when \(x=0\) whereas the coefficient \(\beta_1\) is the slope of the regression line. The slope describes the mean change in \(y\) for each 1-unit increase in \(x\). Please note that the intercept or base rate depends on the coding of the independent variable (i.e, dummy, deviaton coding)
We can add a regression line to our scatterplot with geom_smooth(), since we have already specified the variables of interest in ggplot, we just need to specify linear model as the method used here, written as method='lm'.
Complete the code to add the regression line to the plot (you might want to use another color for the line)
ggplot(pokemon, aes(weight_kg, attack)) +
  geom_point(alpha=.5, color='black') +
  geom_smooth()
ggplot(pokemon, aes(weight_kg, attack)) +
  geom_point(alpha=.5, color='black') +
  geom_smooth(method = 'lm', color='blue')
Multiple Linear Regression
If we want to study the combined effect of two or more independent variables, we can run a regression with multiple predictors.
In our pokemon dataset, we might want to see whether there is an effect of pokemons' height on attack, as well. In the notation of lme4 package, we add predictors to a linear model with the "+" operator.
Complete the code by adding the independent variable height (height_m) to the model
lm(attack ~ weight_kg, pokemon)
lm(attack ~ weight_kg + height_m, pokemon)
If we have more than one predictor variable, it is no longer straightforward to visualise a regression (for that you may use partial regressions). But we still have the coefficients to help us: In this example we can see that if both height and weight are zero the expected attack strength of a pokemon is around 64, then, for each additional kg of weight there is an expected increase in attack strength of about 0.06 points, whereas for each meter in height an expected increase of about 9.0 points.